BabyFirstTV from DIRECTV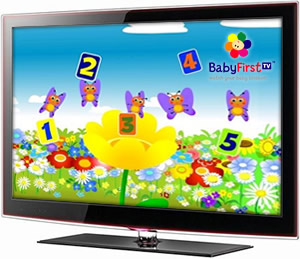 DIRECTV now offers original children's programming on BabyFirstTV, America's first TV channel designed to help babies learn while keeping them entertained. BabyFirstTV features original, award-winning content for parents and babies, designed by and supported by leading childhood experts, all for $4.99 a month. There's no need to spend all that money on Baby Einstein and other DVDs when you can get all this programming for just $4.99 a month, and watch over and over again on your HD DVR.
Here are some of the programming favorites available with BabyFirstTV from DIRECTV:
Harry the Bunny: Harry, a three-year-old bunny, teaches new words and concepts to young viewers.
I Can Sign: Babies as young as 12 months old can learn to use sign language to communicate; learn sign language with your baby!
Squeak: Tizzy, Tog and Toot are three little mice who combine learning with fun storytelling and songs.
My Gym at Home: An exercise and physical fitness program for you and your young one.
Hide and Seek: Learn distance with two lively squirrels and help them find their acorns.
Rainbow Horse: Learn about colors with Rainbow Horse!
Numbers Around the Globe: Help your baby learn how to count with different animals from around the globe.
Baby DIY: Babies and toddlers learn fun crafts with this program.
Peekaboo, I See You!: The classic child's game adds teaching prepositions.
BabyFirstTV is one of the premium packages available with DIRECTV satellite TV, offering the most diverse selection of channels and options for your home television package. With DIRECTV, you can also add other children's programming on top of the many channels featured in our existing packages, each of which contains more than 100 channels to begin. Get started with DIRECTV today and add BabyFirstTV for your young ones.
To Get Started Today Give Us A Call:
1-800-398-5987