One Button Is All You Need
Spend less time searching and more time actually watching. Find the sports you love with the new Sports feature in the DIRECTV on-screen guide. You can find the times and channels for all your favorite sporting events in one location at the touch of a button. Here are the features you've been looking for, all in one place:
See all games and sporting events on TV, from right now through the next two weeks, all in one convenient location; this includes Pay-Per-View, UFC, Boxing and WWE Events
The ability to create a list of your favorite teams so games always appear at the top of the list
The ability to set your HD DVR to record every available game for a specific team, as well as series and multi-day tournaments
Browse by sport, date or time
Filter by channels available in your programming package
Note:  The Sports feature in the DIRECTV on-screen guide requires a Genie HD DVR (model HR34 or later). Blackout restrictions and other conditions apply to sports programming. Only the channels corresponding to your programming package and sports subscription(s) are available for viewing and recording.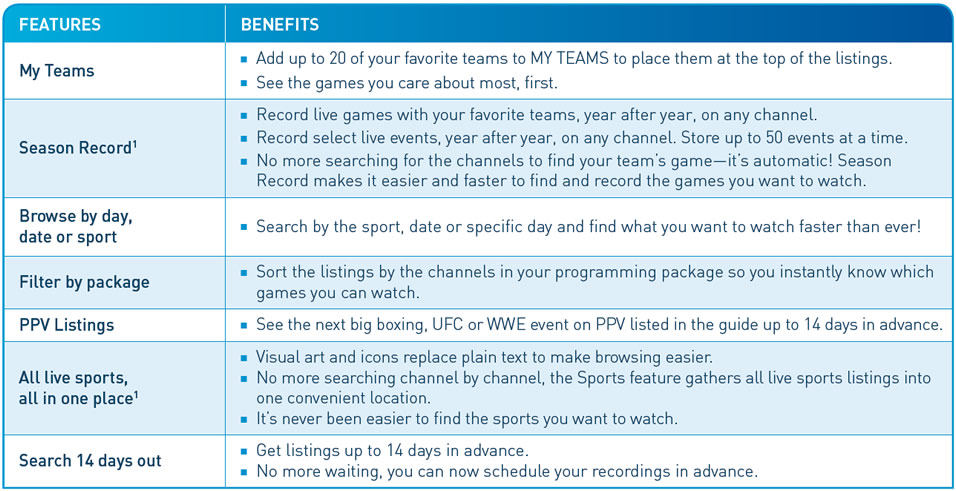 Frequently Asked Questions
Here are some of the most frequently asked questions (FAQs) about Sports in the On-Screen Guide:
How does the Sports feature prioritize games playing on multiple channels?
If a game is airing on multiple channels (for example, on a local channel, regional sports network, national network and as part of a dedicated sports package), the Sports feature chooses to record only one network. The priority goes as follows:
Local
National
Regional Sports Network (RSN)
Subscription sports package
Only channels corresponding to your programming package can be recorded; blackout and other restrictions apply.
How does the Sports feature prioritize if a game is playing on both an English and Spanish language channel?
If a game is airing on both an English channel and a Spanish channel, the Sports feature defaults to the primary language selected to the Genie HD DVR.
What is Season Record?
The Season Record feature allows you to record a team across any channel that's part of your subscribed channel package. Say you set a Season Record for the St. Louis Cardinals; it automatically records their next game, whether it's on ESPN, Fox, Fox Sports Midwest, or a local channel. You can even set Season Recordings for non-team sports like NASCAR, PGA Tour Golf, and tennis.
How do I know which special events can be Season Recorded?
Search for a program in the On-Screen Guide through "My Teams." If the program is available for Season Recording, the Season Record option will show on the program info screen.
How do I cancel a Season Recording?
The same way you cancel a series recording. Go to your Menu, then Settings, then Manage Recordings and select the series or event you'd like to cancel.
Will I get duplicate recordings if I set a recording in Sports and ScoreGuide?
No. These two features are linked, so no duplicate recordings will occur.
Are you charged for Pay Per View when you schedule a recording in the Sports feature?
You are charged when you watch the recording rather than when you set the recording.
What special events will appear in the Sports Feature?
It varies throughout the year. It can include UFC PPVs, grand slam golf and tennis tournaments, the Olympics, and more.
When the channel info displays several channels for my game, how do I know which ones are available to me?
Channels in white are part of your programming package. Grayed out channels are not included in your package, or may be blacked out in your area.
What is the order in which listings are displayed?
Games and events are displayed first by start times, then in alphabetical order.
What are the "Sports Shows" that are shown in the Sports feature?
Sports Shows listings include sports talk shows, documentaries, news/newsmagazine shows and more.
What is the MY TEAMS feature?
The MY TEAMS feature allows you to select your favorite teams and leagues. These listings will then be prioritized at the top of your list.
How many teams/sports can I add to MY TEAMS?
Up to 20 different teams and sports.
Does Sports work with my ScoreGuide TV App?
To further enhance your sports viewing experience, your MY TEAMS selections appear in both the ScoreGuide and the Sports feature.
Our MY TEAMS in Sports the same as MY TEAMS in ScoreGuide?
Both features share selected MY TEAMS. The Sports feature gives you the listing for the next time they are on, while the ScoreGuide shows the score even if they are not on TV.
Why do some MY TEAMS sports not appear in ScoreGuide?
Some sports are not supported in ScoreGuide.
How do I add/remove MY TEAMS?
Select the Edit My Teams option and select the team you want to add or remove. You can also go to a team page to add or remove the team from MY TEAMS, or to set or delete a Season Recording for that team.