DIRECTV VOICE: Now Part of the DIRECTV Mobile Phone App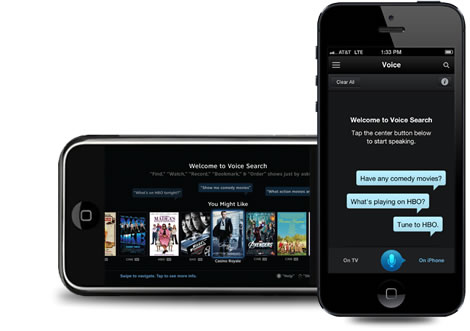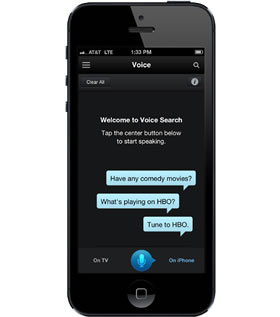 Voice activated search is now available from DIRECT as part of the DIRECTV Mobile App, available now for your phone. Use your voice to find whatever you want to watch on TV, or even schedule your DVR when away from home.
Cell Phone App Controls your DIRECTV System: Just speak to the DIRECTV App on your cell phone to change the channel, schedule a recording and more as long as you're in the same Wi-Fi Network as your HD DVR
Speak Naturally: Talk normally to the DIRECTV App to to search, look up programs, schedule recordings and more. The App speaks back to you, confirming your requests and presenting results.
At Home or On the Go: Use your voice to schedule recordings either at home or when you're away—you can even schedule programs to record from work, from vacation, from anywhere online!
Stop the Scrolling: The voice App takes the work out of search; you no longer have to scroll through lists, click through menus, or find your remote control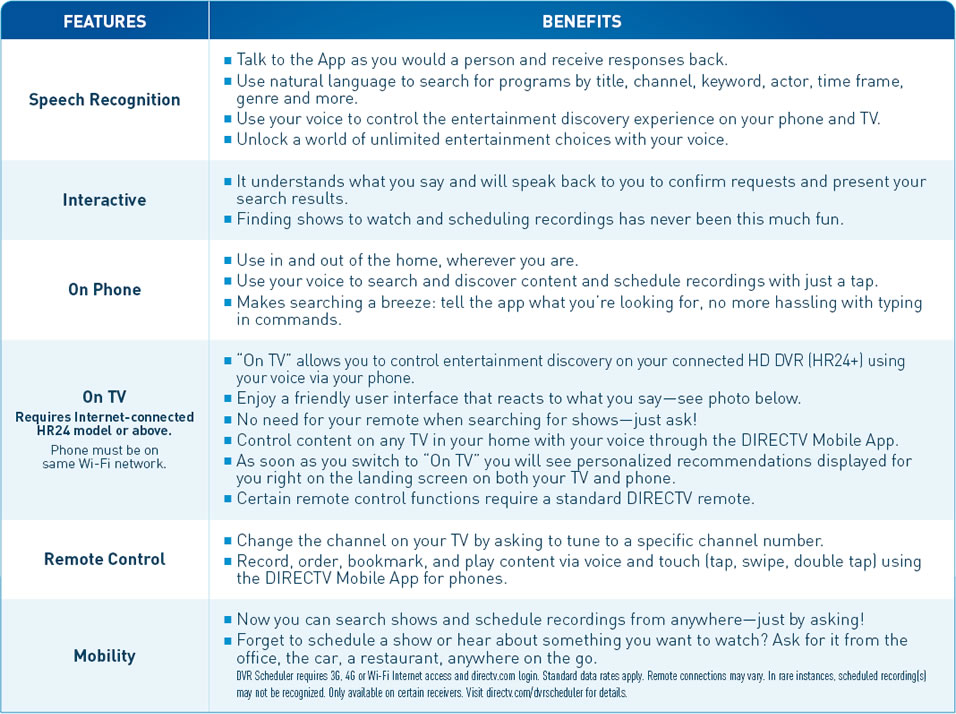 DIRECTV Voice FAQs
Here are the answers to many questions you may have about using DIRECTV Voice with your DIRECTV mobile app.
What is DIRECTV Voice?
DIRECTV Voice is a newly-added feature of the DIRECTV Mobile App, utilizing speech recognition technology to make using the app easier. What you once had to key into your remote or type into the app, you can now ask for using natural language. Speak normally into the app and it will follow your commands and answer your questions.
How does it work with my receiver?
Install the DIRECTV Mobile App on your smartphone and make sure your HD DVR from DIRECTV is connected to the internet. Speak the command you wish to perform into your phone and the app will speak back to you to confirm the instructions and supply results.
How do I start using DIRECTV Voice?
Open the DIRECTV Mobile App on your Android smartphone or iPhone. Tap the three-bar menu icon in the upper left, and select the voice option, or tap the search icon in the upper right of the app screen and tap the blue microphone at the bottom to activate Voice. Then you can speak your commands or questions.
What do "On Phone" and "On TV" mean on the app?
By using the "On TV" option, you see your search results on the TV screen and your phone functions as a remote control. Using the "On Phone" option just shows you search results on your phone.
How do I choose which receiver to control?
Make sure your HD DVR is connected to the internet and that you are using the "On TV" option in the app. Then tap on the receiver name at the top of the screen to select a receiver from the menu.
What does DIRECTV Voice allow me to do?
There are a number of things you can do with DIRECTV Voice, including many functions of a normal remote or the DIRECTV Mobile App. The difference is, you don't have to key in every single command; just speak naturally, and here are some of the things you can do:
Search for and play programs without browsing menus or typing commands
Change channels by stating the channel number
Control DIRECTV across all connected TVs in your home
Search and schedule recordings no matter where you are, either at home or on the go
View select DIRECTV on Demand shows, and other live streaming TV channels, from anywhere with Wi-Fi access
Do I need a separate app for DIRECTV Voice?
No, DIRECTV Voice is part of the DIRECTV Mobile App. Make sure you have the most recent version of the DIRECTV Mobile App on your phone and you're good to go!
How do I know the app is ready for a command?
Tap the microphone icon before speaking. It will say "Listening" and the circle graphic will pulse to the sound of your voice. When you stop speaking, it will say "Processing" and the circle graphic will cycle. Once processing has stopped, it will provide your suggestions.
Can I refine search results using Voice?
Yes. You can refine search results by actor, channel, or whether a certain program is on tonight, as well as by other factors.
Can I control the Genie Mini with Voice?
Yes, you can control Genie Minis and any RVU-enabled TVs you are using with DIRECTV.
Can I access my DVR playlist?
Not yet. We are working on adding this functionality to the app with Voice.
I'm not sure how this works. What are some examples of things I might say?
Here are just a few examples of things you might say to get results from the DIRECTV Mobile App with Voice:
"Find a comedy to watch tonight."
"Show me movies with Meryl Streep."
"Find kids shows on tonight."
How do I start a new search?
When you are in "On Phone" mode, tap the "Clear All" button or say "Start Over." In the "On TV" mode, say "Start Over."
What if I need help?
Simply tap the microphone, say "Help" and the Help menu will appear.
Can I ask for recommendations?
That feature is not currently supported on the App, but when you are in the "On TV" mode you can be presented with a list of recommendations based upon your viewing history.
Is DIRECTV Voice Available in Languages Besides English?
Not at this time. We will judge demand for the application before moving forward with other languages.
What devices does DIRECTV Voice support?
DIRECTV Voice supports:
Receivers within the same Wi-Fi network as your phone. All current features are available on HR24, HR34, HR44+ and RVU Clients connected to the internet.
Droid OS: DIRECTV Voice is available on Android phones from Samsung, Motorola, Sony Xperia, HTC, LG, LTE and Nexus
iOS: DIRECTV Voice is available for iPhones 3GS, 4, 4S and 5
Can DIRECTV Voice control my TV directly?
No, the app works through your Wi-FI connected receiver and thus cannot turn your TV off and on or control volume at this time. It does not control any non-DIRECTV hardware.
Can I use DIRECTV Voice to access other apps on my phone?
No, DIRECTV Voice does not interact with native voice control on your phone, like Siri for iPhones.
Can I use DIRECTV Voice to set closed captioning and parental controls or to change languages?
Not at this time. We will gauge demand for this feature before adding to the functionality.
Does DIRECTV Voice work with the On-Screen Guide?
Can DIRECTV Voice pause or rewind live TV?