DIRECTV Everywhere – DIRECTV Mobile Applications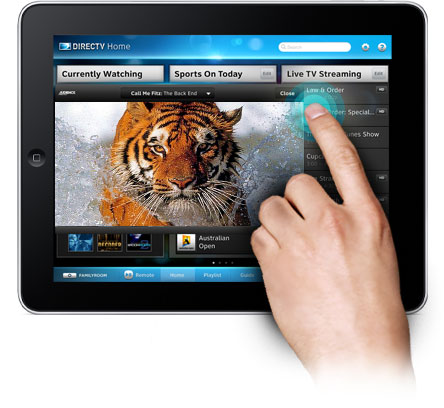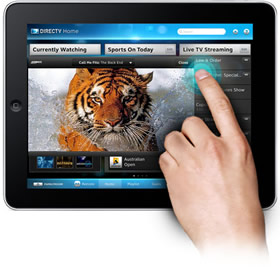 DIRECTV Everywhere is the new suite of mobile apps from DIRECTV allowing you to watch the same movies and shows anywhere: on your home TVs, on your laptop or desktop PC, on tablets and on smartphones.
Watch on your computer: Visit this page to watch online; find movies and shows available to watch online conveniently located on this page.
Watch on your tablet: the DIRECTV app for your iPad is free and easy to install.
The DIRECTV app for your Android phone is available now on Google Play. This free app is easy to install and used to enjoy movies and TV shows on the go.
New! DIRECTV Everywhere Now Offers Customers Even More Benefits
More About DIRECTV Mobile Applications
More Channels Available for Streaming
The DIRECTV Everywhere service has expanded, now offering more than 30 live TV out-of-home streaming channels, including popular premium and basic cable channels like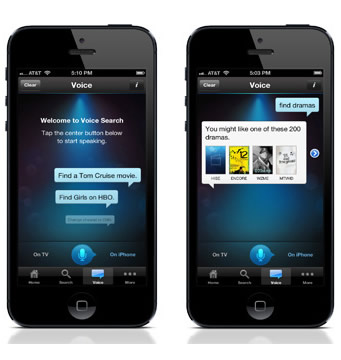 HBO®, CINEMAX®, SHOWTIME®, The Movie Channel, STARZ®, ENCORE, Tennis Channel and Scripps Networks. The expansion also means that DIRECTV Everywhere now delivers 100 live TV in-home streaming channels.
More Viewing Options Available
The Android Tablet app is available now, supporting both live and On Demand programming across all screen sizes and various operating systems.
More On Demand Content
The DIRECTV.com On Demand content lineup has been expanded so that DIRECTV customers can enjoy more than 19,000 high-quality streaming titles at no cost on their computers.
The New & Improved iPad® App Is Another Great Reason To Connect Your HD DVR Receivers To Your Current Internet Connection
When you connect your HD DVR the Internet, not only will they unlock a world of entertainment, they'll turn their iPad® into a portable TV!
The improved iPad® App allows customers to stream live TV channels to their tablet and watch their favorite shows while at home.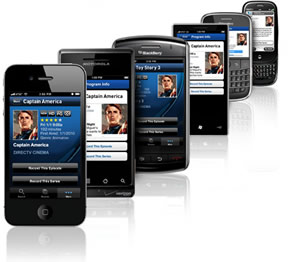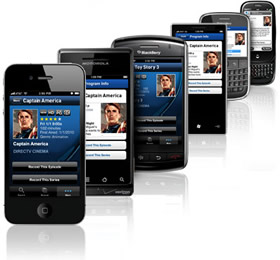 Plus, by flicking the screen upwards they can move the show they are watching on their iPad® directly to their TV screen.
Here is an overview of the new iPad® App features:
Turn your iPad® into a portable TV and watch your favorite shows in any room of your home.
Swipe up on the video on your iPad® to continue watching on your TV.
Quickly find shows to watch on your iPad® with a dedicated "Live TV Streaming" Module.
Get tips in the help section to guide you through features in the app.
View, organize and delete recorded programs from all of your connected HD DVR receivers through the playlist tab.
New movie categories to discover new and popular programs available to watch on DIRECTV.
Set additional start and end times when scheduling a program to record so you don't miss a second of the action.
Set parental controls to block live TV channels viewed on the iPad® and enjoy peace of mind over what your children are watching.
DIRECTV iPhone® App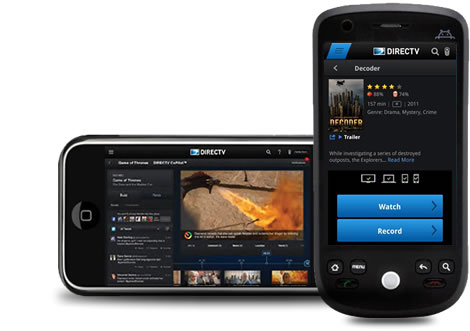 The new DIRECTV iPhone® App launched on 9/18, bringing customers DIRECTV Everywhere capabilities and a whole lot more on the iPhone®. The updated app has improved functionality, including a more user-friendly look and feel, giving customers more ways to watch, browse for programming, and control their TV experience. Here are just a few of the new features available with the DIRECTV iPhone® App:
DIRECTV Everywhere
DIRECTV On Demand
Live in-home TV streaming
Twitter Trending
Social Media Capability
Remote Control functionality
Smart Search
Parental Controls
And more!
The App is free to all DIRECTV customers and can be downloaded by visiting the iTunes App store.
DIRECTV DVR Scheduler - Set your DVR from anywhere.
Forget to set your DVR? No problem. We at DIRECTV realize how often you might leave the home without setting recordings for your favorite shows, sporting events, and other programs. With the DIRECTV DVR Scheduler app, you can browse shows and set your DVR from anywhere with almost any smartphone. You'll never miss your favorite shows again.
NFL SUNDAY TICKET™ Ultimate - Wherever you go, your favorite teams follow.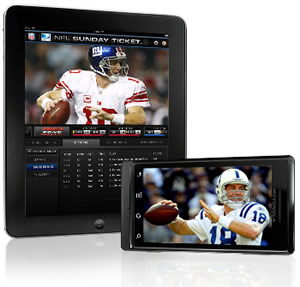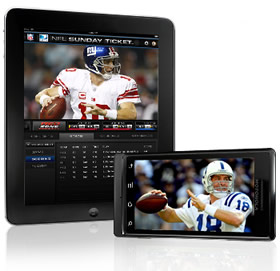 No matter where you happen to be on Sunday, you'll be right there for all the action. NFL SUNDAY TICKET™ Ultimate brings you every game every Sunday in their entirely LIVE on your smartphone or tablet. You also get the REDZONE® Channel, real-time scores, stats and highlights. It's every football fan's dream come true. You can also use Fantasy Football functionality to follow your fantasy team and league matchups through NFL.com, bringing to your home a fully functioning football viewing experience that keeps you up to date on all your teams, real and fantasy.