The Difference Between DIRECTV vs Cable TV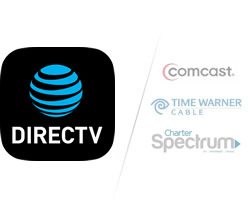 DIRECTV provides satellite television options that beat cable TV in every category: the most full-time 24/7 HD channels, the most sports in HD, and more than a decade of higher customer satisfaction ratings. There are many reasons why more Americans are now choosing DIRECTV over cable TV competitors:
Free HD with many of our packages
Exclusive sports packages:

NFL SUNDAY TICKET
NASCAR HotPass

Free equipment upgrades with many of our packages
Free standard installation in up to four rooms
Take advantage of the above and more when locking in your savings for two years! When you choose DIRECTV over cable, you'll avoid erratic price jumps, subpar customer service, and small channel lineups, and instead you'll get hundreds of digital channels, top-notch customer service, and the most sports and movies available. With more than 285 digital channels available, including premium channels like SHOWTIME, HBO, CINEMAX and STARZ, along with all of our sports packages, DIRECTV can't be beat.
DIRECTV vs Comcast
There's no comparison between DIRECTV and Comcast. DIRECTV offers more HD channels than Comcast, more sports in HD, and higher-rated customer service according to the 2011 American Customer Satisfaction Index. In addition, DIRECTV's Whole Home DVR technology is like nothing Comcast offers, allowing you to record a show and watch in up to 14 more using a single HD DVR. Record and watch in HD in every room as long as each TV has an HD receiver!
DIRECTV vs. Time Warner Cable
DIRECTV is #1 in customer satisfaction ratings over Cable and DISH. Time Warner Cable has never made it to #1 according to the 2011 American Customer Satisfaction Index. DIRECTV also has superior HD DVR recording capacity, allowing for up to 400 hours of SD recordings, with Time Warner's only half that at just over 200 hours. DIRECTV also offers 20 more HD channels than Time Warner.
DIRECTV vs. Charter Cable
DIRECTV gives you more HD channels than Charter Cable, and has been higher rated in customer satisfaction for more than a decade according to the 2011 American Customer Satisfaction Index. In addition, DIRECTV provides exclusive sports coverage, like NFL SUNDAY TICKET and NASCAR HotPass, unavailable with Charter Cable.