RVU Technology from DIRECTV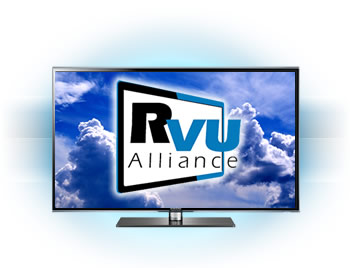 DIRECTV and Mid-America Satellite are proud to bring you RVU, a client/server-based technology allowing you, the viewer, to experience a consistent server-generated user interface that provides support for DVR technology while watching live or recorded programming on various consumer electronics devices such as TVs, desktop computers, and laptop computers. RVU (pronounced R-View) uses DLNA technology as a foundation, networking RVU-compliant TVs, such as smart TVs and clients with an RVU server; once connected, you can watch live or recorded content in any room with a consistent user interface. It's like a whole-home DVR, but a whole lot more.
Here are just a few of the benefits of RVU technology
RVU technology accelerates the availability of service provider content through the connected home
RVU technology enables rapid introduction of new features and applications that typically accompany commercial content
RVU technology increases the value of RVU-enabled TVs and other CE devices by providing DVR functionality and access to subscriber-based content
Flexible RVU architecture allows client implementation of multiple devices (TVs, PCs, laptops, tablets, Blu-ray players, and more)
If you have RVU-capable TVs and other devices in your home, DIRECTV brings RVU service to you with the new Genie. Here are some of the customer benefits you'll see with RVU and Genie from DIRECTV:
Access high-definition programming from any TV in the home
Record and play back high-definition programming from any TV in the home
Access personal media content like photos and videos from any TV in the home
Interact with sports, weather, and other applications from any TV in the home
Receive the same experience through the same user interface on every TV in the home
Get content on more devices, like PCs and laptops
How RVU Works
The RVU protocol for clients and servers is built upon a set of widely accepted, open proprietary standards. DIRECTV has developed its RVU-friendly technology, such as the Genie, with these standards in mind:
DLNA (Digital Living Network Alliance) – DLNA is the leading protocol for handling interoperability between consumer electronics devices (in this case, your server, the Genie, and your TVs and other viewing devices)
UPnP (Universal Plug and Play) – UPnP provides mechanisms for handling discover and description to allow servers and clients to find each other within a home network. With a smart TV and DIRECTV's RVU technology, just plug in your device and you're ready to go.
Take Advantage of RVU with RVU TVs
If you're interested in taking advantage of RVU technology from DIRECTV but do not have an RVU-capable television, consider one of these options from our partner, iElectronics.com: