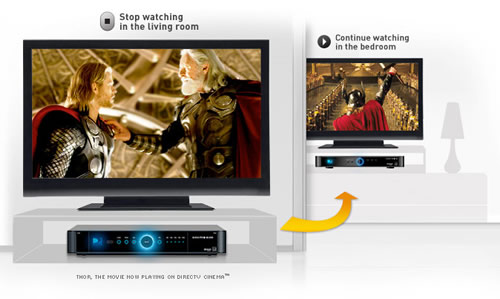 Now every TV in your home can share one HD DVR. Many other companies require separate digital video recorders for each room. Only DIRECTV's Whole-Home DVR service lets you do all this: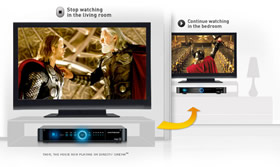 Watch recorded shows in any room.
You have one HD DVR and it's in your living room. But you want to be able to watch your recorded shows in your bedroom. Whole-Home DVR service lets you do just that. You can watch live or recorded shows in any room!*
Start watching in one room and finish where you left off in another room.
You're enjoying a recorded movie in the living room, but you want to finish watching it in the comfort of your bed. No problem. Just stop the movie, and when you're all set to start it again in your bedroom, just go to your DVR playlist, select the movie, and resume.
Record any show from any room.
You can also schedule recordings from any room. Say you're doing some work in your den and you just remembered to record the big game. Just set the HD DVR in the living room right from your connected TV in the den.
Delete your recorded shows from any room.
Finished watching that movie in your bedroom? Go ahead and delete it right there. No need to go to the HD DVR in your living room. This will help make sure your DVR doesn't fill up with programs you've finished watching but were unable to delete.
Watch shows in HD in every room.
With DIRECTV Whole-Home DVR, if you recorded it in HD, you can watch it in HD in any room. You can't do that with cable or DISH Network. With so many programs in high-definition nowadays, there's no reason to watch in any other way than in HD.
Set your DVR from any cell phone, iPad, or laptop.
How many times have you been at work and realized you forgot to set your favorite shows to record? Now, even when you're away from home, you can easily schedule recordings using the FREE DVR Scheduler mobile app.
Set separate parental control options for each TV.
If you want to set parental controls for the TV in the kids' room but not for the one in your bedroom, you can do that. Each TV can have its own parental control settings. You'll never have to worry about kids watching programs you don't want them to watch when they're in their rooms.