DIRECTV Packages Details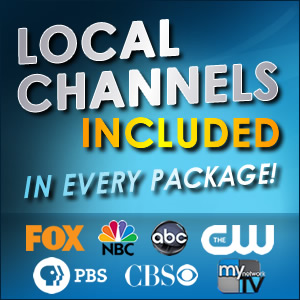 Hooking up homes in Illinois with DIRECTV Satellite TV in Belleville is the name of the game for Mid America Satellite, serving IL. DIRECTV for home service in Belleville is available from Mid America Satellite at a number of price points that all bring you more than a hundred channels in digital quality, maximizing the value of your connection. Get popular cable channels along with all of your local channels in Belleville with high definition picture and sound (HD included), a deal you won't get from other TV providers in Belleville. DIRECTV in Belleville is also the only way to get NFL SUNDAY TICKET™ in your home in Belleville; get every out of market game, every Sunday with Mid America Satellite and DIRECTV.
With Mid America Satellite, serving Illinois, you can now get DIRECTV for home services in Belleville on their own or bundled with phone and internet in Illinois to help with even more savings. Read on to learn more about satellite TV packages in Belleville available from Mid America Satellite and DIRECTV for home in Belleville.
DIRECTV in Belleville from Mid America Satellite comes in five service tiers. Every tier comes with a great channel lineup, and free installation in Belleville comes with no upfront payment for equipment. The ENTERTAINMENT™ Package and CHOICE™ Package bring you over a hundred digital channels at a low monthly rate. With XTRA in Belleville, you get more than 205 digital channels. ULTIMATE in Belleville provides you more than 225 digital channels. The PREMIER™ package at the top of the tier gives you more than 285 channels.
Are you ready to get started with a satellite TV package in Belleville? Call Mid America Satellite at 1-800-398-5987 to get started today, and speak to one of our expert telephone reps to find the right package for you, with professional installation in Belleville that will have you up and running in no time. Call now to get started.
DIRECTV Service Area
Mid America Satellite sells DIRECTV® all over the United States, including these nearby areas:
Addieville, IL
Albers, IL
Alhambra, IL
Alma, IL
Alton, IL
Ashley, IL
Aviston, IL
Baldwin, IL
Bartelso, IL
Batchtown, IL
Belleville, IL
Benld, IL
Bethalto, IL
Bingham, IL
Breese, IL
Brighton, IL
Brownstown, IL
Brussels, IL
Bunker Hill, IL
Butler, IL
Carlinville, IL
Carlyle, IL
Carrollton, IL
Caseyville, IL
Centralia, IL
Chester, IL
Chesterfield, IL
Clay City, IL
Coffeen, IL
Collinsville, IL
Columbia, IL
Donnellson, IL
Dorsey, IL
Dow, IL
Du Bois, IL
Dupo, IL
East Alton, IL
East Carondelet, IL
East Saint Louis, IL
Edwardsville, IL
Eldred, IL
Ellis Grove, IL
Elsah, IL
Evansville, IL
Fairview Heights, IL
Farina, IL
Farmersville, IL
Fidelity, IL
Fieldon, IL
Fillmore, IL
Flora, IL
Freeburg, IL
Fults, IL
Gillespie, IL
Girard, IL
Glen Carbon, IL
Godfrey, IL
Golden Eagle, IL
Grafton, IL
Granite City, IL
Greenfield, IL
Greenville, IL
Hamburg, IL
Hardin, IL
Hecker, IL
Hettick, IL
Highland, IL
Hillsboro, IL
Hillview, IL
Hoyleton, IL
Ingraham, IL
Irving, IL
Iuka, IL
Jerseyville, IL
Kampsville, IL
Kane, IL
Kell, IL
Keyesport, IL
Kinmundy, IL
Lebanon, IL
Lenzburg, IL
Litchfield, IL
Louisville, IL
Madison, IL
Marine, IL
Marissa, IL
Maryville, IL
Mascoutah, IL
Medora, IL
Michael, IL
Millstadt, IL
Modesto, IL
Modoc, IL
Mount Olive, IL
Mozier, IL
Mulberry Grove, IL
Nashville, IL
New Athens, IL
New Douglas, IL
Nilwood, IL
Nokomis, IL
O Fallon, IL
Oakdale, IL
Okawville, IL
Palmyra, IL
Patoka, IL
Percy, IL
Piasa, IL
Pocahontas, IL
Prairie Du Rocher, IL
Ramsey, IL
Raymond, IL
Red Bud, IL
Richview, IL
Rockbridge, IL
Rockwood, IL
Roodhouse, IL
Saint Elmo, IL
Saint Peter, IL
Salem, IL
Sandoval, IL
Scott Air Force Base, IL
Scottville, IL
Shipman, IL
Shobonier, IL
Smithboro, IL
Smithton, IL
Sorento, IL
Sparta, IL
Staunton, IL
Steeleville, IL
Trenton, IL
Troy, IL
Valmeyer, IL
Vandalia, IL
Vernon, IL
Virden, IL
Waggoner, IL
Walsh, IL
Walshville, IL
Waterloo, IL
White Hall, IL
Witt, IL
Wood River, IL
Worden, IL
Xenia, IL
We serve the following ZIP codes in the Belleville and East St. Louis, IL Area: 62214, 62215, 62001, 62807, 62002, 62808, 62216, 62217, 62218, 62006, 62220, 62221, 62223, 62226, 62009, 62010, 62011, 62230, 62012, 62418, 62013, 62014, 62015, 62626, 62231, 62016, 62232, 62801, 62233, 62630, 62824, 62017, 62234, 62236, 62019, 62021, 62022, 62831, 62239, 62024, 62240, 62201, 62203, 62204, 62205, 62206, 62207, 62025, 62026, 62027, 62241, 62028, 62242, 62208, 62838, 62533, 62030, 62031, 62032, 62839, 62243, 62244, 62033, 62640, 62034, 62035, 62036, 62037, 62040, 62044, 62246, 62045, 62047, 62248, 62649, 62249, 62049, 62050, 62803, 62434, 62051, 62849, 62052, 62053, 62054, 62853, 62253, 62854, 62254, 62255, 62056, 62858, 62060, 62061, 62257, 62062, 62258, 62063, 62065, 62260, 62667, 62261, 62069, 62070, 62262, 62263, 62264, 62074, 62672, 62075, 62269, 62268, 62271, 62674, 62875, 62272, 62079, 62275, 62277, 62080, 62560, 62278, 62877, 62081, 62280, 62082, 62458, 62880, 62881, 62882, 62225, 62683, 62685, 62885, 62284, 62285, 62086, 62286, 62088, 62288, 62293, 62294, 62295, 62471, 62892, 62690, 62572, 62297, 62091, 62298, 62092, 62094, 62095, 62097, 62899,