DIRECTV in HD: The Best in High-Definition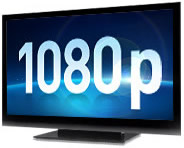 If you're looking for the ultimate experience in high-definition television, look no further than DIRECTV in HD, featuring the highest quality picture and Dolby Digital quality sound. DIRECTV has more 24/7 HD programming than cable competitors or DISH Network, and provides many local channels in HD as well. DIRECTV offers the best in national programming in HD, including popular channels like CNN HD, ESPN HD, the History Channel in HD, and more, along with premium channels available in HD such as HBO® HD, Showtime® HD, and Starz® HD.
About DIRECTV in HD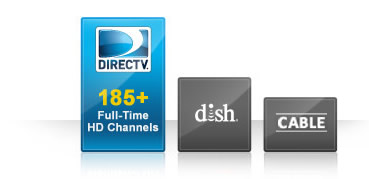 Not sure what you're getting when you order DIRECTV HD? Take a look at some of the facts about high-definition television:
HD stands for "high-definition," in reference to the picture on your TV screen. Only around for the last ten years or so, HD is the biggest advance in picture quality since the introduction of color TV.
No matter what TV size you own, it will be compatible with your DIRECTV HD receiver and DIRECTV HD DVR, as long as it is an HD-ready TV. All new TVs are HD-compatible.
DIRECTV features digital HD, which uses less bandwidth than analog HD (through the airwaves). This means less delay and higher picture quality.
Even more HD is available from DIRECTV with the HD EXTRA PACK, featuring nine specialty channels that only broadcast in HD, including HDNet Movies, Crime and Investigation HD, and the Sony Movie Channel HD.
Watching sports in HD has changed the game, so to speak. Check out the sports packages available from DIRECTV which feature many live game broadcasts in HD, including NFL SUNDAY TICKET, exclusively available with DIRECTV, which brings you every NFL game, every Sunday, in the highest quality high-definition.
To get started with HD from DIRECTV, order now.
To Get Started Today Give Us A Call:
1-800-398-5987