DIRECTV Sports Packages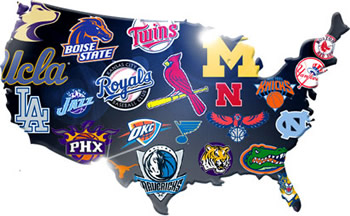 Other satellite TV providers and cable television providers cannot compete with DIRECTV Sports Packages. Between the channel lineups available with DIRECTV's packages and the additional seasonal sports packages available from DIRECTV, you'll get the best in football, basketball, hockey, baseball, and more in stunning HD. With Sports Pack you can get more than 35 regional sports networks, catching games all around the nation, and with these DIRECTV sports subscription services, you'll never have to go to the corner sports bar to see all the games you want.
NFL SUNDAY TICKET – Every single game, every Sunday, with live games in HD and other features. Read more about NFL Sunday Ticket...
MLB EXTRA INNINGS – Unavailable with DISH TV, MLB EXTRA INNINGS allows viewers to catch as many as 60 out of market baseball games each week of the season, plus the Strike Zone Channel and more.
DIRECTV Golf – 3 bonus golf channels, live scorecards, real-time leader boards and mix channels allowing for viewing four feeds at once make this the package for every golf fan.
NHL CENTER ICE – Get up to 40 regular season hockey games a week during the NHL season.
NASCAR HotPass – Feature four dedicated top driver channels, live team radio feeds and HD coverage. NASCAR HotPass is free for 2012! Read more about NASCAR HotPass...
ESPN FULL COURT – Get up to 30 regular season college basketball games a week from around the country.
NBA LEAGUE PASS – Get up to 40 regular season NBA games a week from all over the country.
MLS DIRECT KICK – Major League Soccer comes to DIRECTV with top regular season matchups and select postseason playoff games.
ESPN GamePlan – Get up to 15 college football games every Saturday during the regular season with ESPN GamePlan.
DIRECTV SPORTS PACK – Features more than 35 specialty and regional sports networks for programming across the nation.
Fox Soccer Plus – a new international network featuring international rugby and soccer.
Other Features of DIRECTV Sports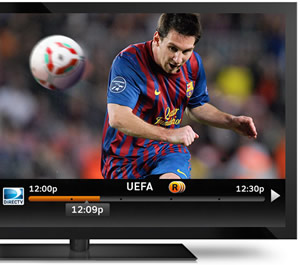 DIRECTV Sports has a number of other features beyond the sports packages available. Here are just a few:
High-Definition Sports – With sports in HD, you'll feel like you're right there in the middle of the action. HD has revolutionized sports broadcasting, and nobody does HD like DIRECTV.
Control Your Own Instant Replay – With HD DVR from DIRECTV you can control your own instant replay, pausing and rewinding live TV. You'll never miss any game action when getting up to get the nachos out of the microwave!
GameSearch – Quickly and easily track down alternative broadcasts for sporting events in your area.
Get started with DIRECTV and take advantage of all the sports programming these satellite TV packages have to offer. Order now.
To Get Started Today Give Us A Call:
1-800-398-5987