DIRECTV Packages Details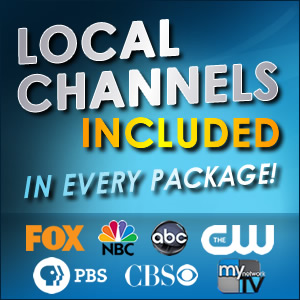 Mid America Satellite brings DIRECTV to Hutchinson, hooking up homes in Kansas with the best satellite TV packages around. Packages available from Mid America Satellite's DIRECTV for home service in Hutchinson range in price but all maximize value, bringing you what you want from satellite TV in KS: popular cable channels with great high definition picture and sound, along with the local channels you can't get from other satellite TV providers in Hutchinson. DIRECTV in Hutchinson is also the easiest way for football fans to add NFL SUNDAY TICKET™ in Kansas and get every game on TV.
Mid America Satellite allows you to either get DIRECTV for home satellite TV services in Hutchinson on their own or bundled with phone and internet services in KS; save more on all your communications and entertainment services when you bundle. Continue reading to learn more about the packages available in Hutchinson for satellite TV in KS.
There are five levels to residential DIRECTV service in Hutchinson provided by Mid America Satellite. All tiers come with great channel lineups and free professional installation with no upfront payment for equipment. The ENTERTAINMENT™ Package and CHOICE™ Package bring you more than a hundred digital channels at low monthly rates. With XTRA in Hutchinson, you get 205+ digital channels. With ULTIMATE in KS you get 225+ digital channels. PREMIER™ rounds out the packages with nearly 300 channels.
If you're ready to get started with DIRECTV installation in Hutchinson from Mid America Satellite in Kansas, call 1-800-398-5987 today. Speak to an expert representative who can find the right package for you for satellite TV in KS; professional installers will get you set up and running. Contact us now.
DIRECTV Service Area
Mid America Satellite sells DIRECTV® all over the United States, including these nearby areas:
Abbyville, KS
Alden, KS
Arlington, KS
Assaria, KS
Attica, KS
Buhler, KS
Bushton, KS
Byers, KS
Canton, KS
Cedar Point, KS
Chase, KS
Claflin, KS
Coats, KS
Durham, KS
Ellinwood, KS
Florence, KS
Galva, KS
Geneseo, KS
Goessel, KS
Great Bend, KS
Gypsum, KS
Halstead, KS
Hardtner, KS
Haven, KS
Haviland, KS
Hazelton, KS
Herington, KS
Hesston, KS
Hillsboro, KS
Hope, KS
Hudson, KS
Hutchinson, KS
Inman, KS
Iuka, KS
Kiowa, KS
Lake City, KS
Larned, KS
Lehigh, KS
Lincolnville, KS
Lindsborg, KS
Little River, KS
Lost Springs, KS
Lyons, KS
Macksville, KS
Marion, KS
Marquette, KS
Mcpherson, KS
Medicine Lodge, KS
Moundridge, KS
Nickerson, KS
North Newton, KS
Partridge, KS
Pawnee Rock, KS
Peabody, KS
Plevna, KS
Pratt, KS
Ramona, KS
Raymond, KS
Roxbury, KS
Saint John, KS
Sawyer, KS
Sharon, KS
South Hutchinson, KS
Stafford, KS
Sterling, KS
Sun City, KS
Sylvia, KS
Tampa, KS
Turon, KS
Walton, KS
Windom, KS
We serve the following ZIP codes in the Hutchinson, KS Area: 67510, 67512, 67514, 67416, 67009, 67522, 67427, 67021, 67428, 66843, 67524, 67525, 67028, 67438, 67526, 66851, 67443, 67444, 67053, 67530, 67448, 67056, 67057, 67543, 67059, 67061, 67449, 67062, 67063, 67451, 67545, 67501, 67502, 67546, 67066, 67070, 67071, 67550, 67073, 66858, 67456, 67457, 66859, 67554, 67557, 66861, 67464, 67460, 67104, 67107, 67561, 67117, 67566, 67567, 66866, 67568, 67124, 67475, 67573, 67476, 67576, 67134, 67138, 67505, 67578, 67579, 67143, 67581, 67483, 67583, 67151, 67491,