DIRECTV in Quincy, Illinois
A prominent river city, Quincy, IL is now served fully by DIRECTV in Illinois, with local channels now available in the DIRECTV for Quincy, IL package. Illinois's "Gem City" now benefits from the full suite of DIRECTV satellite TV services, with popular cable channels, all local channels, and all other aspects of the DIRECTV in Quincy package available for residents of this Illinois town twice recognized as an All-American City.
The Quincy, IL television market includes the cities of Quincy, Hannibal, Burlington, Keokuk and Macomb, and due to its proximity to Hannibal, the home of Missouri's famous export Mark Twain, the two are often lumped together as part of the same community. DIRECTV in Quincy brings the local television affiliates of ABC, CBS, NBC, Fox and the CW networks, previously unavailable with satellite television in Quincy. Bringing these channels into the DIRECTV Specials in Quincy allows customers to get all their local channels but with the added advantage of everything DIRECTV has to offer, ranging from popular cable networks and free premium channels for three months at sign-up to tons of programs and movies with DIRECTV On Demand in Quincy, from HD DVR services allowing you to record, rewind and pause live TV to HD receiver upgrades bringing you high quality high-definition visuals.
Along with local channels, the DIRECTV Service in Quincy, IL package also includes the regional sports channel Fox Sports Midwest, which carries all the local games that sports fans in Quincy and surrounding areas care about. In Quincy, many people are St. Louis Cardinals baseball fans and with Fox Sports Midwest in Quincy, IL they'll get all the games that hit the airwaves, whether the Cards are at home in nearby St. Louis or on the road battling opponents across the country. They'll also get St. Louis Blues hockey and many University of Illinois and University of Missouri basketball and football games. Tons of local sports coverage will keep everyone in touch with their favorite area teams.
Local affiliate TV programs in Quincy will also be broadcast on DIRECTV keeping everyone abreast of the weather for such annual local occurrences as the U.S. Catfish Anglers Tournament, held each year in the Quincy area; the Big Dam Film Festival, which features independent films from around the world and is sponsored by the Young Professionals of the Quincy Area and named for Lock and Dam #21, an icon of Quincy; the Midsummer Arts Faire; and many more.
Call now to get any of the DIRECTV Packages installed in Quincy and check out the many packages available. For sports fans, many packages also come with NFL SUNDAY TICKET, letting football fans in Quincy and surrounding areas watch their favorite teams no matter where they're located. Other benefits of signing up for one of the DIRECTV Deals includes locking in savings for two years, getting three months of premium channels like HBO, Cinemax, Showtime, The Movie Channel, Starz and Encore, and more, all with professional installation and no upfront cost for equipment. Anyone interested in DIRECTV Promotions in Quincy should call today.
DIRECTV Packages Details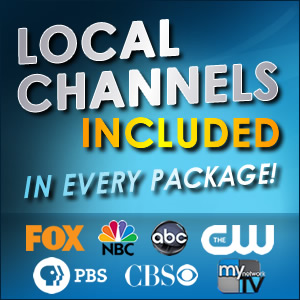 Hooking up homes in Illinois with DIRECTV Satellite TV in Quincy is the name of the game for Mid America Satellite, serving IL. DIRECTV for home service in Quincy is available from Mid America Satellite at a number of price points that all bring you more than a hundred channels in digital quality, maximizing the value of your connection. Get popular cable channels along with all of your local channels in Quincy with high definition picture and sound (HD included), a deal you won't get from other TV providers in Quincy. DIRECTV in Quincy is also the only way to get NFL SUNDAY TICKET™ in your home in Quincy; get every out of market game, every Sunday with Mid America Satellite and DIRECTV.
When you work with Mid America Satellite it's not just DIRECTV in Quincy by itself; you can also get satellite TV services in Quincy bundled with phone and internet or either service on its own, saving even more on entertainment and communications services. Read on to learn about the satellite TV packages in Quincy.
DIRECTV in Quincy gives you residential satellite TV services in Quincy in five levels: ENTERTAINMENT™, CHOICE™, XTRA, ULTIMATE and PREMIER™. Each tier comes with a great channel lineup in Quincy, along with free professional installation and no up front payments due on equipment. The ENTERTAINMENT™ Package and the CHOICE™ Package bring you more than a hundred digital channels for low monthly rates. Further breakdown:XTRA in Quincy gives you more than 205 channels; ULTIMATE in IL gives you more than 225 digital channels; and you get nearly 300 channels with PREMIER™ in Quincy.
Mid America Satellite can help you get started with DIRECTV installation in Quincy; call 1-800-398-5987 to get started now. Speak to one of our expert representatives; we'll find the right satellite TV package in Quincy for you, with professional installation in IL. Call to get started today.
DIRECTV Service Area
Mid America Satellite sells DIRECTV® all over the United States, including these nearby areas:
Adair, IL
Augusta, IL
Barry, IL
Basco, IL
Baylis, IL
Blandinsville, IL
Bluffs, IL
Bowen, IL
Browning, IL
Bushnell, IL
Camden, IL
Camp Point, IL
Carthage, IL
Chambersburg, IL
Clayton, IL
Coatsburg, IL
Colchester, IL
Dallas City, IL
Elvaston, IL
Fowler, IL
Frederick, IL
Golden, IL
Good Hope, IL
Griggsville, IL
Hamilton, IL
Hull, IL
Huntsville, IL
Industry, IL
Kinderhook, IL
La Harpe, IL
La Prairie, IL
Liberty, IL
Lima, IL
Littleton, IL
Loraine, IL
Macomb, IL
Mendon, IL
Milton, IL
Mount Sterling, IL
Nauvoo, IL
Nebo, IL
New Canton, IL
New Salem, IL
Niota, IL
Paloma, IL
Payson, IL
Pearl, IL
Perry, IL
Pittsfield, IL
Plainville, IL
Pleasant Hill, IL
Plymouth, IL
Prairie City, IL
Quincy, IL
Rockport, IL
Rushville, IL
Sciota, IL
Sutter, IL
Tennessee, IL
Timewell, IL
Ursa, IL
Versailles, IL
Warsaw, IL
West Point, IL
Winchester, IL
We serve the following ZIP codes in the Quincy, IL Area: 61411, 62311, 62312, 62313, 62314, 61420, 62621, 62316, 62624, 61422, 62319, 62320, 62321, 62323, 62324, 62325, 62326, 62330, 62334, 62338, 62639, 62339, 61438, 62340, 62341, 62343, 62344, 61440, 62345, 61450, 62346, 62347, 62348, 61452, 62349, 61455, 62351, 62352, 62353, 62354, 62355, 62356, 62357, 62358, 62359, 62360, 62361, 62362, 62363, 62365, 62366, 62367, 61470, 62301, 62305, 62370, 62681, 61475, 62373, 62374, 62375, 62376, 62378, 62379, 62380, 62694,