DIRECTV for BUSINESS: Lobby TV in Saint Louis, Missouri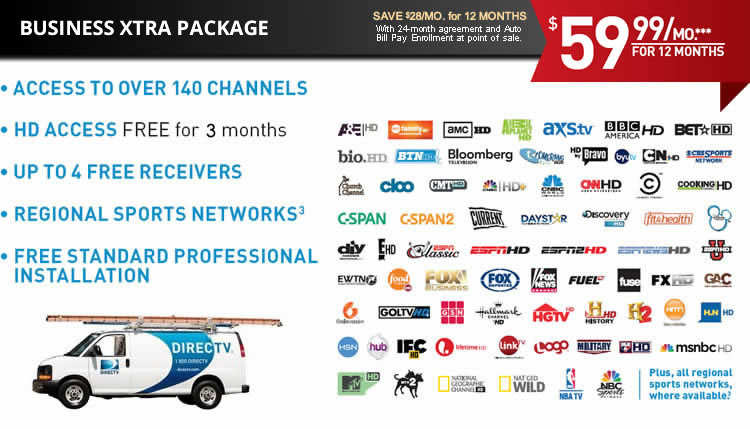 Call Us For A Quote
314-446-1298
Or fill out the form below

New Customer Downloads

Speak With A Business Specialist Now By Calling

314-446-1298
More about DIRECTV for Lobbies in Saint Louis
It's never fun to wait around. Keep your lobby or waiting area feeling more alive with DIRECTV for lobbies in Saint Louis. Get more than 140 digital channels featuring 100% digital-quality picture and sound and liven up your building's lobby or waiting area with regional sports networks, local channels, and all the news that's fit to air.
Get DIRECTV for Business service for your lobby from Mid-America Satellite. While your customers, clients and guests wait, you can entertain them with customized programming lineups that fit your interested base. Get started with DIRECTV for your business lobby by contacting Mid-America Satellite today.
Everything You Need for Lobby DIRECTV
Making a good first impression on customers and visitors is important. You can bring life to your front room, foyer, lobby or waiting area easily and conveniently with affordable DIRECTV for lobbies in Saint Louis. In addition to DIRECTV packages, we can also provide and install flat-screen TVs with wall mounts. Is your lobby restrained and quiet? A flush wall mount keeps the flat screen television unobtrusive while still providing color and sound. If your lobby is more active, we can accommodate that as well, with more visible mounts and larger flat screens. No matter the look and feel of your room, we can keep with the profile.
DIRECTV lobby packages are perfect for office buildings, hotel lobbies, doctors' waiting rooms, and many other businesses. High-quality digital picture and sound will keep your visitors entertained and occupied. No one likes to wait, but with our DIRECTV lobby packages, flat screen televisions and mounts, visitors and customers won't notice the time flying right by, and with more than 140 channels available, you'll be able to pick and choose what's perfect for your customers and visitors on any given day.
Inquire about a DIRECTV lobby or waiting room package in Saint Louis Metropolitan Area by calling 314-446-1298 today.
Learn more about DIRECTV for lobbys in Saint Louis with one of our experts by requesting a free site survey. Call 314-446-1298 or fill out our contact form today.
Speak With A Business Specialist Now By Calling

314-446-1298