DIRECTV QAM Modulators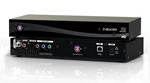 The ZeeVee series of HDTV QAM Modulators all distribution of HD digital signage and HD programming sources using existing coax cabling. Each HDbridge module allows you to convert a satellite or cable connection into an HD digital cable (QAM) channel. This signal can then be received by any HDTV through regular coax wiring.
Modules are placed inside of rack chassis and are firmly held in place by thumbscrews to prevent the units from falling out. Each chassis has a single AC power connector and this converts into DC power for the modules. The modules come pre-wired with 8 input combiner and RF amplifier that will deliver 34dbmv power for all of the channels. The chassis are cut low in the back which provides easier access to all of the wiring on the back of the modules.
Save time when you order QAM Modulators for DIRECTV from Mid-America Satellite. The ZeeVee series of HDTV QAM Modulators controls all distribution of HD programming sources, as well as digital signage for your business, using your existing coax cabling. Contact Mid-America Satellite to order today, getting the equipment you're looking for at the price you need.
QAM Modulator Features
Modules come in three different resolutions: This optimizes the value by matching the resolution that is already set on your source. This is connected by a high-resolution component video (Y, Pr, Pb) connector.
DVD Quality Video at 480p: Component video connectors deliver brilliant DVD performance and digital quality.
Digital Audio: Dolby AC-3 pass-through or PCM encoding.
Select the broadcast channel from a simple, easy to use front-panel: this option can be up and running in minutes.
Full Closed Caption support: This is required for ADA compliance.
QAM Modulator Chassis Features
Rapid Deployment: With one AC connector, one RF connector and having a shallow chassis allow for easy access to video/audio connections in the back of the rack which make this system quick to deploy.
Rack Efficiency: At only 10 inches deep this chassis system is the easiest to maintain, it also comes with 6RU for 8 channels.
High Quality Cable: Top grade amplification and compression connectors using coax components.
Making your business Green: 190 total watts on an AC load for all 8 channels.