DIRECTV Residential Experience (DRE) Hotel Equipment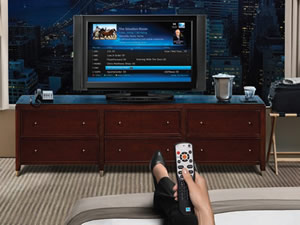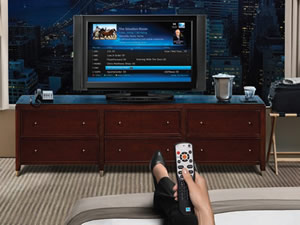 DIRECTV Residential Experience (DRE) makes watching DIRECTV in hotel rooms as incredible as it is at home. Key features guests will love include:
Access to full Lodging & Institutions channel line-up, including up to 100 HD channels
Interactive programming guide
Co-branded user interface (property's logo on interactive programming guide)
Simplified remote with an anti-microbial finish, designed to enhance programming navigation
Management control server
Eliminates the need for Pro:Idiom compatible televisions
Simplified hospitality software

Removed MediaShare features, Caller ID, TVMail, Favorites lists
Link to guide added for end user convenience
Irrelevant channels and options are Hidden
Row ads disabled
Recent searches removed
No access to system set
DIRECTV Residential Experience Eligibility
New and existing Lodging & Institutions customers
20 Or more subscriber units
Customers already participating in the Hotel Premier Program are not eligible
Property must be home run wired to each drop using RG-6 coaxial cable
Not compatible with Video On Demand (VOD) systems
DIRECTV Residential Experience Requirements
Based on credit approval
IN-ROOM CHOICE™ Package
Must have minimum charge of $9.00 per room per month
Flat rate services such as local channels, Jade World and distant networks do not qualify toward the minimum charge amount
5 Year or 7 Year programming agreement
Installation must be completed by a certified DRE Installer
DIRECTV Residential Experience (DRE) Equipment
H25 HD Receiver
RC50 Remote Control
Interactive Program Guide
Management Control Server
DIRECTV RESIDENTIAL EXPERIENCE (DRE) PHASE 2 LAUNCHES SOON!
DIRECTV pleased to announce that Phase 2 of our revolutionary DRE product is launching on March 30th. With this latest update, hotels will be able to provide their guests with a DIRECTV experience that makes them feel even more at home. Features and benefits include:
The ability to pause, rewind and record live television so customers never miss their favorite shows while travelling away from home
Easier guide navigation with our faster and smarter interactive, co-brandable programming guide
More customization with the ability to insert up to 50 channels of hotel content seamlessly in the guide
Our new, sleek remote still protected with the anti-microbial finish and hex screw on the battery cover
Get DIRECTV DRE (DIRECTV Residential Experience) for your hotel and give your guests a hotel TV experience that closely resembles, and in some cases is better than, their experience at home. Your guests will love the features, and you'll love the control you have, customizing your channel lineup to line up with your guests' interests and keep them entertained and relaxed during their stay. Contact Mid-America Satellite for a quote and to get started with DIRECTV DRE Equipment for your hotel today.
Speak With A Business Specialist Now By Calling

1-800-398-6176