DIRECTV Commercial HD Receiver H24

Download PDF Spec. Sheet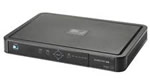 In addition to all of the advanced technology found in the Standard DIRECTV® Receiver, the DIRECTV® HD Receiver transforms
a TV into the ultimate HDTV, with up to 1080p picture output for an incredible life-Like viewing experience.
Save time by ordering the DIRECTV HD Receiver (H24) online from Mid-America Satellite. We have a full supply of DIRECTV H24 HD Receivers available for shipping, pickup and installation, so contact us today for a quote on product, shipping, delivery and/or installation. We look forward to hearing from you and getting you the receivers you need.
Commercial HD Receiver (H24) Features
Standard-definition (SD) and high-definition [HD] enabled‡
7-day Advanced Program Guide®
Search function to find programming
Interactive TV enabled*
4801, 480p. nop. 10801 picture output and 108Dp compatible
HDMI, Component, CompoSite. Optical Audio (coax) outputs
Ethernet-enabled for networking with home PCs via DIRECTV™ MediaShare††
Built-in DECA Connected Home Networking
Dolby® Digital 5.1 Surround Sound capable**
On-screen Caller ID†
Integrated RF antenna
Parental locks/controls
Favorite channels list
GameSearch™ will automatically recognize when the DIRECTV® Receiver is tuned to a channel with a sports blackout
Front Touch Panel
Whole-Home DVR compatible with HD DVR Pro and HR2x models§
Commercial HD Receiver (H24) Benefits
View standard-definition content and high-definition content.
Search the channel guide up to 7 days in advance for what to watch.
Search for your favorite shows by person, title, keyword or channel.
Take advantage of DIRECTV Interactive features like DIRECTV Active™.*
Enjoy the picture at the proper resolution. Also choose your screen format: full screen, stretched, letterbox, pillar box, or crop mode.
Listen to superb digital sound with additional hardware.
View and log Caller 10 Information provided by your local phone company.†
Commercial HD Receiver (H24) Specifications
Product
Model: H24
Brand: DIRECTV
Name: DIRECTV Plus® HD DVR
Warranty: Limited 90 day - (See User's Guide)
Receiver
Width: 15" (max.)
Height: 2.75" (max.)
Depth: 11" (max.)
Weight: 7.4 lbs.
Carton
Width: 19.95"
Height: 5.75"
Depth: 11.95"
Weight: 12 lbs.
Tuners
Video Outputs
S-Video: 1
Composite: 2 (RCA type)
Modulator switch: 1 (Channel 3/4)
Audio Outputs
Digital Optical: 1
Stereo: 2 (L/R, RCA)
Other
Satellite In: 1
Internal RF antenna: 1
USB: 1
Off-Air In: 1
Phone: 1
Cables
S-Video
Composite (RCA type)
Other
Access Card
Phone cord
Power cord
Remote
RC64
IR Capable
RF Capable remote available for purchase from DIRECTV
4 Position Switch: DIRECTV Receiver, TV, AV1, AV2
Programmable to DIRECTV, TV, STB, DVD, VCR, Stereo
Batteries Included (2 AA)