DIRECTV for Banks in Saint Louis, Missouri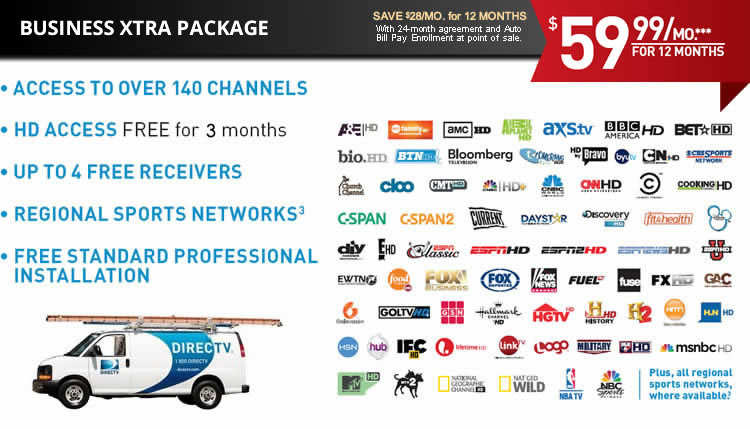 Call Us For A Quote
314-446-1298
Or fill out the form below

New Customer Downloads

Speak With A Business Specialist Now By Calling

314-446-1298
More on DIRECTV for Banks in Saint Louis
According to a 2011 DIRECTV survey, more than 90% of business owners believe that DIRECTV keeps their customers entertained while they're waiting. DIRECTV for banks can keep your customers entertained and satisfied as they wait to meet with a teller or personal banker.
With DIRECTV for banks in Saint Louis, you'll experience:
A more satisfied customer base
More repeat business
Recommendations
And more.
Get started with DIRECTV for banks today by calling 314-446-1298 or filling out our short contact form.
DIRECTV for Banks Will Keep Your Customers Coming Back
Give your bank an environment that meets your customers' needs with DIRECTV. DIRECTV for Banks in Saint Louis is the best way to keep your customers entertained while waiting in the teller line or waiting to see a personal banker. With DIRECTV service, you can provide a wealth of news, entertainment, information and sports programming that your banking customers enjoy. If you operate a downtown branch in a high-traffic area with businessmen and businesswomen moving through your branch quickly, you can broadcast 24-hour news that fits the professional environment. For a suburban or "down home" branch, local channels may be what your customers are looking for. No one knows your customers better than you do, and we can help you find the right package of channels for your particular bank.
A busy bank may sometimes have to deal with long lines. Keep your customers entertained while they wait with DIRECTV for Business from Mid-America Satellite. You can create a channel lineup that fits your customer base, giving them positive feelings about every branch visit. Get started with DIRECTV for your bank branch by contacting Mid-America Satellite today.
Get DIRECTV installed at your bank in Saint Louis, Metropolitan Area for a lot less than you think. Get over 170 channels in 100% digital-quality picture and sound. Let DIRECTV keep you connected to news that impacts your business. From stock market fluctuations to weather conditions, DIRECTV delivers the channels that matter most.
Do you need help with installing a flat-screen TV in your banks waiting room? We can help. We sell and install flat-screen TVs. We make it simple. We have several TV bundles that include the TV, TV mount and all the wiring needed to get up and running. Ask your sales representative for more details about DIRECTV for Banks in Saint Louis.
Learn more about DIRECTV for Banks in Saint Louis with one of our experts by requesting a free site survey. Fill out our contact form and we'll get in touch with you at your convenience.
Speak With A Business Specialist Now By Calling

314-446-1298