High Speed Internet in Saint Louis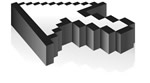 Tired of your business internet coming in at a crawl? Remaining competitive in business nowadays means having high-functioning internet services with no downtime; without high speed internet in Saint Louis, you could be left in the dust.
If your business internet is slowing to a crawl, contact Mid-America Satellite to speed it back up! We have a number of business internet options to offer you, and can bring you the high speeds you need to keep your business not only online but on track and ahead of the pack. Contact Mid-America Satellite today to get started with Internet for Business.
Mid-America Satellite partners with top telecommunication companies to bring you top-tier, high speed internet in Saint Louis. High speed internet services available include voice, data, and security, with Mid-America Satellite offering Web connectivity via a number of methods. Whether you need a DSL connection, T1, Bonded T1, cable with dedicated circuits or high speed Ethernet, Mid-America Satellite can find the right package for you with a customized solution for your business. Dial-up is no longer an option; get your high speed connection today.
Learn About High Speed Internet
With Mid-America Satellite, you can bundle your high speed internet service with our television and other services to get the best deal on a complete office solution. Combining DIRECTV business digital television for your break rooms, lobbies and waiting areas with high speed internet in Saint Louis can help you maximize your money while bringing your business completely up to speed.
With solutions from our partnerships with top telecommunications companies, dedicated circuits will provide you with speeds at the top of the market, the lowest downtime, and well-regarded customer service from installation to support.
Contact us to learn more about high speed internet in St. Louis, MO Metropolitan Area. We will come up with a customized quote based on your particular need and find the right services for you at the right price.
Please fill out this quote form and you will have a customized quote back in just one hour.