DIRECTV for Dentist Offices in Saint Louis, Missouri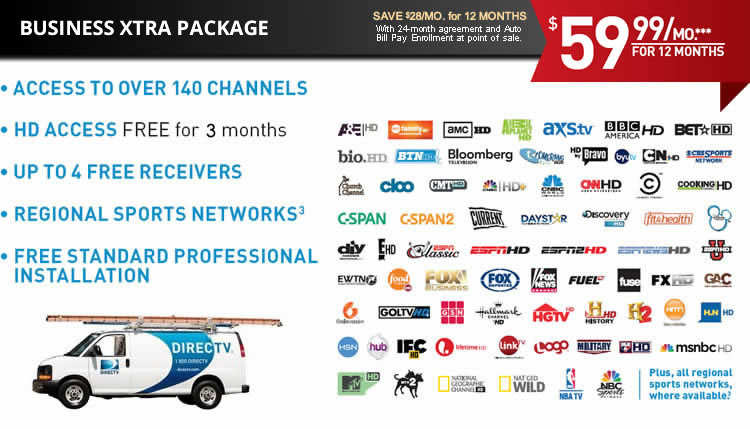 Call Us For A Quote
314-446-1298
Or fill out the form below

New Customer Downloads

Speak With A Business Specialist Now By Calling

314-446-1298
More on DIRECTV for Dentist Offices in Saint Louis
Going to the dentist can be a nerve-wracking experience for some. DIRECTV for BUSINESS provides dentist office viewing packages in the Saint Louis area so you can keep your patients relaxed and entertained as they wait in the waiting room or even when they're in the dentist's chair itself.
DIRECTV for dentists' offices will help:
Make your patients feel more relaxed as they wait in the waiting room
Keep their minds occupied as their teeth are cleaned or worked on
Bring repeat business and increase revenue and recommendations
To get started with DIRECTV for your dental office in Saint Louis, , call 314-446-1298 today, or fill out our contact form and we'll get in touch with you to get the process going.
DIRECTV in Your Dential Office Will Help Visotors Relax
Are you looking for DIRECTV For Dental Offices in Saint Louis? Get DIRECTV in your dental office for a lot less than you think. Ordering DirecTV for your dental office can translate into greater success for your business. We'll partner with you to provide the channels that are most important to your business and your customers. Get DIRECTV's Business Choice Package in your dental office. The Business Choice Package is our most popular package for Dental offices. The package includes over 140 digital channels including local channels and your regional sports network. You also get three free months of SonicTap Music with over 80 music channels.
The dentist's office is a place where patients need to feel relaxed. Add to the calming atmosphere with programming from DIRECTV for Business for your dental office from Mid-America Satellite. Set up TVs in your waiting room or even the rooms where patients are examined and treated with DIRECTV for dental offices, choosing the channel lineup that works best for you and your practice and most importantly your patients. Get started with DIRECTV for your dentist office by contacting Mid-America Satellite today.
Most of the dentists that order DIRECTV service want service in their waiting room as well as in the patient rooms. Installing DIRECTV in patient rooms has always been a challenge due to the size of the DIRECTV receiver. DIRECTV has solved this issue by launching the new slim HD satellite receiver model H25. This new HD satellite receiver can be easily mounted behind a TV. This solution works great if you have a small LCD mounted on an articulating mount in your patient rooms. Combined with the optional radio frequency remote control your patient can change channels without having to point the remote directly at the satellite receiver. Let us install this solution in your dental office and it will translate into a better overall patient experience.
Get DIRECTV in your Dental office. Plus, sign up for HD access and get three months of HD free as a bonus! No cable or satellite TV provider in Saint Louis, Metropolitan Area gives you better service than DIRECTV. DIRECTV for Dental Offices in Saint Louis is the perfect solution for you so call now and let us give you more information.
Learn more about DIRECTV for Dental Offices in Saint Louis with one of our experts by requesting a free site survey. Fill out our contact form to get in touch with us today.
Speak With A Business Specialist Now By Calling

314-446-1298