DIRECTV for Retail Stores in Paducah, Kentucky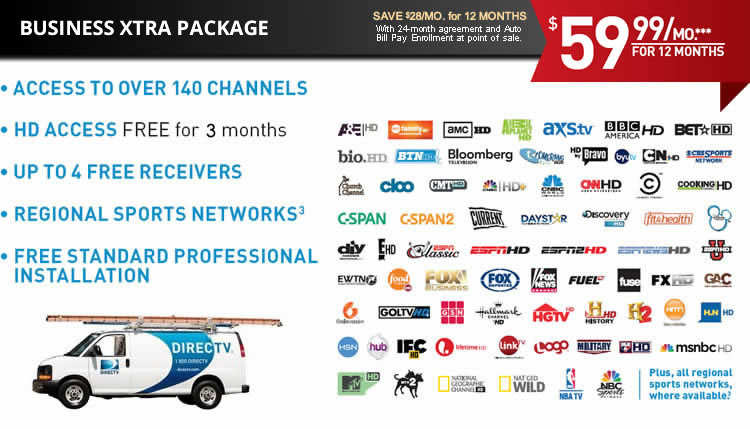 Call Us For A Quote
1-800-398-6176
Or fill out the form below

New Customer Downloads

Speak With A Business Specialist Now By Calling

1-800-398-6176
More about DIRECTV for Retail Stores in Paducah
Get DIRECTV in your Retail Store in Paducah. Merchandising is all about displaying your store so it stimulates your customers. Let DIRECTV create the buzz in your retail store. We'll partner with you to provide the entertainment channels your customers want. Get DIRECTV's Business Choice Package in your retail store. The Business Choice Package is our most popular package for retail stores. The package includes over 140 digital channels including local channels in your regional sports network. Guys can watch the game while the gals shop and everyone will be happy. A trip to the store is totally changed with the presence of DIRECTV for retail stores.
Take advantage of the programming that'll keep your store's customers coming back again and again with DIRECTV for Business from Mid-America Satellite. With Mid-America Satellite, you can choose an affordable channel lineup that appeals to your customer base, keeping your customers entertained and remaining in your store. Get started with DIRECTV for your retail store by contacting Mid-America Satellite today.
Do you need background music for your retail store? Sign up for The Business Choice Package and get three free months of SonicTap music with over 80 music channels. Simply connect a DIRECTV satellite receiver to your audio system and a crystal clear audio. If you're just opening up your store, ask us about our retail audio system packages. This same technician can install your audio system and DIRECTV system usually the same day.
Get DIRECTV in your Retail Store in Paducah. Plus, if you call now and ask how to get three FREE months of HD access. No cable or satellite TV provider in Paducah Metropolitan Area gives you better service than DIRECTV. Call now for more information.
Learn more about DIRECTV for Retail Stores in Paducah with one of our experts by requesting a free site survey. Call 1-800-398-6176 or fill out our contact form today.
Speak With A Business Specialist Now By Calling

1-800-398-6176