DIRECTV for Break Rooms in Paducah, Kentucky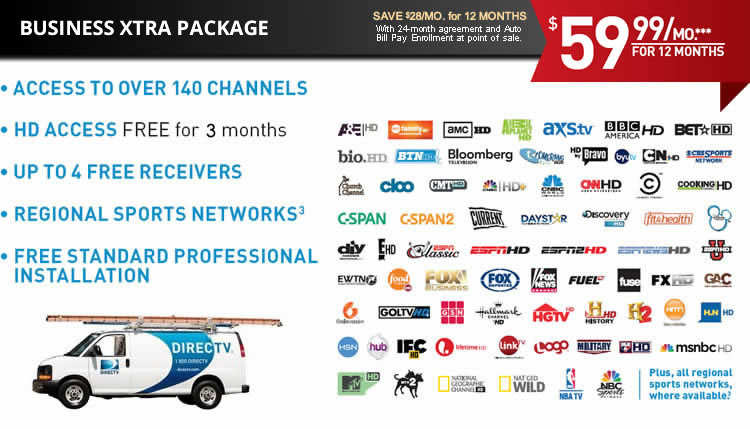 Call Us For A Quote
1-800-398-6176
Or fill out the form below

New Customer Downloads

Speak With A Business Specialist Now By Calling

1-800-398-6176
More on DIRECTV for Break Rooms in Paducah
According to a 2011 national survey by the company, eight in ten businesses believe that DIRECTV provides a more enjoyable work environment and improves employee morale and productivity while giving them round the clock access to news, sports and entertainment.
With DIRECTV for your break room, your business in Paducah, can take advantage of local channels and cable channels, 24-hour news networks, sports and entertainment. With DIRECTV, your employees will:
Feel more relaxed during breaks
Return to work more productive
Feel their employers care about their well-being
If you're interested in putting DIRECTV in your break rooms in Paducah, call 1-800-398-6176 or fill out our contact form to get started today.
DIRECTV in Your Break Room Helps Your Workers Be More Productive
Break time is essential for any business. Whether you run a retail outlet, a restaurant, a bar, or an office, your employees need to feel comfortable and relaxed to do the job well. DIRECTV for break rooms brings entertainment and information to your business, and employees can enjoy their breaks and then return to work fresh and focused.
Keep employee morale high with DIRECTV for Business from Mid-America Satellite. With Mid-America Satellite, you can create a DIRECTV break room package with the channels you prefer to keep your employees entertained, informed, and relaxed as they take their breaks. Get started with DIRECTV for your business break rooms by contacting Mid-America Satellite today.
Commercial DIRECTV for break rooms comes in a number of varieties, but for most businesses we recommend the Business Choice package, delivering more than 170 channels to your business. You will have the perfect mix of local channels and digital-quality cable channels ranging from sports networks to 24-hour news channels and entertainment options. DIRECTV for break rooms offers the range of channels you need to serve your employees. If your office is a very professional environment, you can keep the 24-hour news channels running to keep your employees informed on the latest current events while they're away from their desks. More laid-back, creative offices may want to broadcast sports or entertainment programming. Locally-focused offices will be served with local channels that keep the focus of the business.
No one knows your employees better than you, and with more than 170 channels to choose from, you can be sure your employees will find what they want to watch on their lunch breaks. Contact us today to learn more about DIRECTV for break rooms, the Business Choice package, and other commercial DIRECTV options.
Learn more about DIRECTV for Break Rooms in Paducah with one of our experts by requesting a free site survey. Fill out our contact form and we'll get in touch with you right away.
Speak With A Business Specialist Now By Calling

1-800-398-6176