DIRECTV for Restaurants in Paducah, Kentucky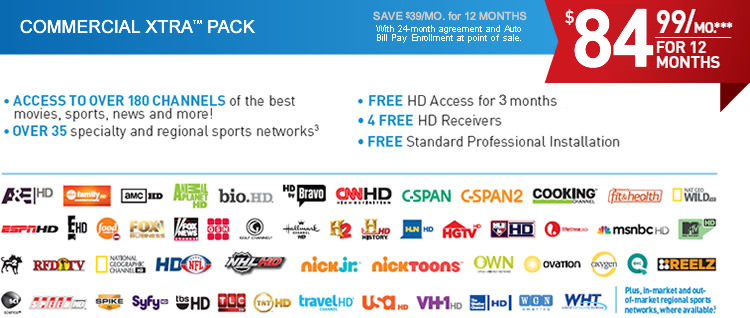 Call Us For A Quote
1-800-398-6176
Or fill out the form below
New Customer Downloads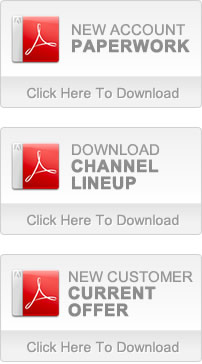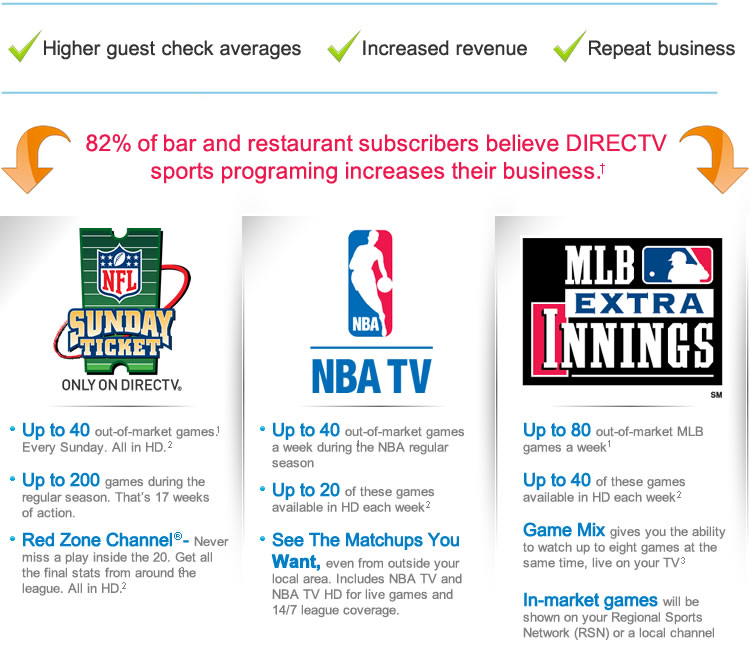 Speak With A Business Specialist Now By Calling

1-800-398-6176
More on DIRECTV for Restaurants in Paducah
DIRECTV for BUSINESS provides the premier television service in the Paducah, metro area; it's the perfect choice for restaurant television packages. More than 85% of restaurant owners prefer DIRECTV, as DIRECTV brings the broadcasts, including news, entertainment, and sports that your customers want, meaning:
Repeat Business
Increased Revenue
Higher Guest Check Averages
With DIRECTV for BUSINESS your restaurant can take advantage of the leading sports packages, so your customers won't head to the bar down the street whenever the game's on, including:
NFL SUNDAY TICKET™ – NFL SUNDAY TICKET brings you every game, every Sunday, in glorious High Definition. The only way to get the most popular sports package featuring the nation's most popular sport is with DIRECTV.
MLB EXTRA INNINGS – With MLB EXTRA INNINGS you get great out of market pro baseball coverage, with up to 80 games a week during the regular season. With advanced receiver service you'll get games in HD.
NBA LEAGUE PASS – With NBA LEAGUE PASS you'll get up to 40 out of market professional basketball games a week. Blackout rules and other conditions apply.
Call 1-800-398-6176 today to get started, or fill out our contact form and receive a call at your convenience about putting DIRECTV in your restaurant.
DIRECTV is Committed to Your Business's Success
DIRECTV for Business from Mid-America Satellite brings all the programming you need for your restaurant. No matter the interests of your customer base, from sports to news and everything in between, you'll get it with DIRECTV for Business. DIRECTV for Business is also the only way to get NFL Sunday Ticket, bringing every out-of-market NFL game to your establishment, every Sunday. Get started with Mid-America Satellite today.
Most of our customers choose the Choice Extra Package that includes over 170 channels. Our customers like this package because it includes all the ESPN channels, your Regional Sports Network and all the other Fox Sports Networks around the country. Ask about our FREE equipment offer and early bird pricing for NFL Sunday Ticket and you'll never lose business to the bar down the street that always has the game on. You'll also have local channels, which will be showing some of your local teams' broadcasts, in digital quality.
SonicTap music by DIRECTV is the perfect solution for background music for your restaurant. We simply hook up a DIRECTV satellite receiver to your audio amplifier and you're off listening to over 80 music channels. If you are looking for an audio system for your restaurant we can design and install one for you for a lot less than you think. Ask you sales representative for details. We are also able to install televisions and mounts, including all the equipment and wiring you'll need to get started. Get DIRECTV for your restaurant now and your customers will keep coming back.
Learn more about DIRECTV for Restaurants in Paducah with one of our experts by filling out our contact form.
Speak With A Business Specialist Now By Calling

1-800-398-6176