DIRECTV for Hotels in Columbia, Missouri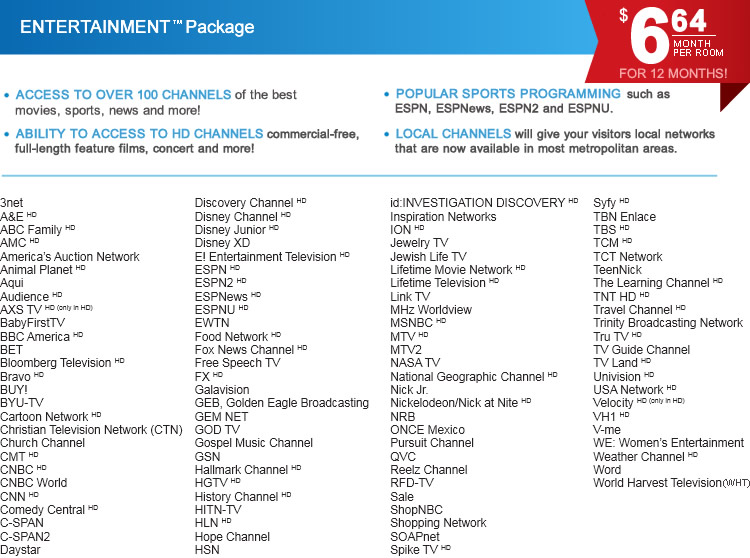 Call Us For A Quote
1-800-398-6176
Or fill out the form below

New Customer Downloads

Speak With A Business Specialist Now By Calling

1-800-398-6176
More about DIRECTV for Hotels in Columbia
Keep your occupancy high with DIRECTV for Hotels in Columbia, Missouri. DIRECTV offers unmatched sports, news, entertainment and HD channel variety. Along with our electronic program guide, which is free with DIRECTV HD, your guests will experience a home-away-from-home experience in every room.
Make your guests truly feel at home with a DIRECTV Residential Experience for your hotel, bringing the same features guests see on their home television systems to your guest rooms. DIRECTV and Mid-America satellite will help you keep your occupancy high and your guests relaxed and entertained with more than 100 channels available in a channel lineup you get to choose. Contact Mid-America Satellite to get started with DIRECTV for your hotel today.
With DIRECTV for Hotels in Columbia, you can get:
More than 100 channels for only $6.64 a month per room
Premium channels are available
Residential experience with the same on-screen channel guide, HD channels and more
To get started with DIRECTV for hotels in Columbia, fill out our contact form or give us a call at 1-800-398-6176.
More Reasons To Have DIRECTV for Hotels in Columbia
Keep your visitors feeling like they're right at home with DIRECTV Residential Experience television service for hotels. DIRECTV for hotels in Columbia, Missouri with DRE is changing the way people watch TV in their hotel rooms, with an experience that's just like watching at home. Increase your visitors' customer satisfaction with a hotel television package that will make them want to stay with you time and time again.
DIRECTV Residential Experience Features
The DIRECTV for hotels in Columbia DRE package uses the latest in cutting-edge equipment to deliver a DIRECTV experience that is as close to home as possible. Visitors to your hotel will be able to pause, rewind and record live television, navigate using our co-brandable programming guide, and feel like they will never miss their favorite shows, no matter how far away from home they might be.
For hoteliers, the DRE package allows flexibility with the ability to insert up to 50 channels of hotel content seamlessly into the programming guide. You can brand the programming guide with your hotel logo to keep your hotel's personality in the visitor's mind as they browse for the shows they'd like to watch while relaxing in your hotel rooms.
DIRECTV for hotels in Columbia Metropolitan Area with the DRE package is available for hotels with 20 or more subscriber units, with a minimum charge of $6.64 per room per month. Simplified hospitality software makes it easier for guests and hotel staff alike.
Learn more about DIRECTV for hotels in Columbia Metropolitan Area today by contacting our installations experts at 1-800-398-6176 or you can simply fill out our short contact form. We look forward to hearing from you.
DIRECTV for Hotels Benefits
Full residential lineup, including over 100 HD channels
Easy-to-navigation, customizable program guide
Simplified remote with anti-microbial finish
Easy search functionality
No upfront equipment costs, ask us how!
DIRECTV For Hotels Requirements
Home-run wiring
RG-6 cable
Commercial-grade HD television
Not compatible with existing VOD system
Pricing includes a Management Control Server that supports:
Guest message display
Parental controls
Remote rebooting
Remote default reset
Property Management System (PMS) Integration
Speak With A Business Specialist Now By Calling

1-800-398-6176