DIRECTV for Doctor Offices in Kansas City, Missouri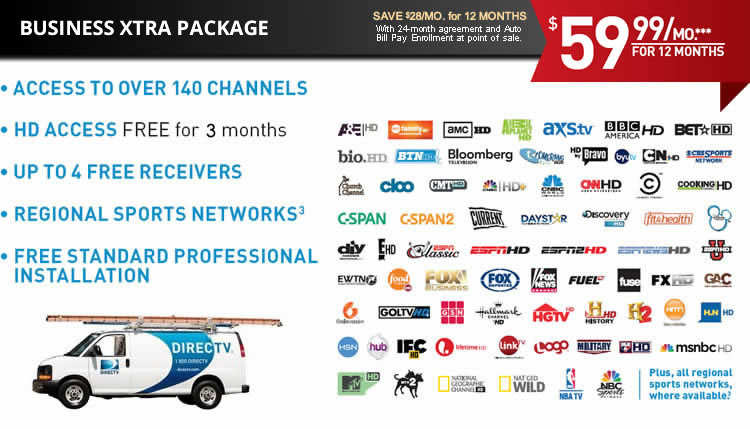 Call Us For A Quote
1-800-398-6176
Or fill out the form below

New Customer Downloads

Speak With A Business Specialist Now By Calling

1-800-398-6176
More on DIRECTV for Doctor Offices in Kansas City
Going to the doctor's office can be a stressful experience for some patients. It doesn't need to be, though; help keep your patients at ease in the waiting room and the examination room with DIRECTV for doctor's offices. With DIRECTV for doctor's offices, you can keep your patients entertained while they're waiting or even when they're being examined with the best business satellite TV service in Kansas City, .
With DIRECTV for doctor offices, you can:
Display relaxing programming in your waiting room
Show entertainment, news or sports in exam rooms
Keep your patients happy and relaxed
Ensure repeat visits and patient comfort
To get started with DIRECTV for Doctor's Offices in Kansas City, call 1-800-398-6176 today or fill out our contact form to have us call you.
DIRECTV in Your Doctors Office Keeps Patients Relaxed and Happy
Get DIRECTV in your Doctor's Office in Kansas City. Providing a television powered by DIRECTV service is essential to customer satisfaction. Physicians normally operate with a busy schedule resulting with a busy waiting room. Make your waiting room more comfortable for your patients with DIRECTV for doctors offices, featuring local channels and the most popular cable channels people will want to watch as they wait. Get the DIRECTV Business Choice Package. The Business Choice Package is our most popular package for Doctors' offices. The package includes over 140 digital channels including local channels and your regional sports network. You also get three free months of SonicTap Music with over 80 music channels; pipe soothing music in and keep your patients relaxed as they wait and as you treat them.
The doctor's office may not seem like the perfect place for a DIRECTV for Business package from Mid-America Satellite, but television programming can help keep waiting patients relaxed, both in exam rooms and the waiting room. Set up a channel lineup that appeals to your patient base and keep them relaxed for their doctor's visits with DIRECTV for your doctor's office. Get started with DIRECTV for your medical practice by contacting Mid-America Satellite today.
Do you need a flat-screen TV installed in your waiting room? Ask your sales representative about TV bundles that include a TV, TV mount and all the necessary wiring. The best part is that the same installer that shows up to install DIRECTV brings the TV, TV mount and completes the installation in just a few hours; it's not just satellite TV, it's full business service.
Get DIRECTV in your Doctor's Office Kansas City. Plus, sign up for HD access and get three months of HD free as a bonus! No cable or satellite TV provider in Kansas City gives you better service than DIRECTV. Call now and let us give you more information.
Learn more about DIRECTV for Doctors Offices in Kansas City with one of our experts by requesting a free site survey. We look forward to hearing from you; fill out our contact form today.
Speak With A Business Specialist Now By Calling

1-800-398-6176