DIRECTV for Auto Dealerships in Jefferson City, Missouri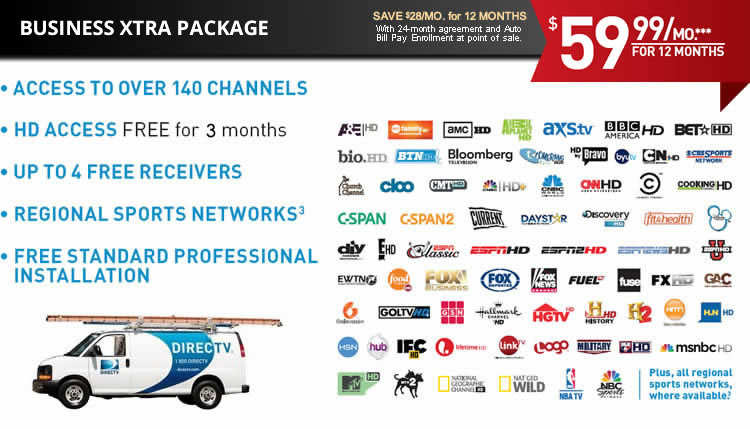 Call Us For A Quote
1-800-398-6176
Or fill out the form below

New Customer Downloads

Speak With A Business Specialist Now By Calling

1-800-398-6176
More on DIRECTV for Sports Bars in Jefferson City
According to a 2011 survey, 90% of business owners believe that DIRECTV programming keeps customers entertained while waiting. DIRECTV for auto dealerships in the Jefferson City, Missouri metropolitan area can keep your service visitors happy and satisfied while you complete routine service and extensive repairs on their vehicles.
With DIRECTV, your auto dealership will experience:
Happier and more satisfied customers in the Jefferson City area
Repeat visits for service, repair, and purchase
Increased revenue with a happier customer base
Call 1-800-398-6176 today to get started, or fill out our contact form and receive a call at your convenience about putting DIRECTV in your auto dealership.
DIRECTV in your dealership will keep your customers happy
Get DIRECTV installed at your auto dealerships in Jefferson City, Metropolitan Area for a lot less than you think. Waiting around in the service department's waiting room is not much fun. Break the silence in your waiting room with DIRECTV service and keep your customers' minds off the wait. Get over 170 channels in 100% digital-quality picture and sound. Your customers will be entertained by all the channels and lose track of time. This makes for a happy repeat customer, and happy repeat customers don't just come back, they tell their friends and family There are dealerships all over; help give yourself the customer service advantage with the pleasant environment DIRECTV for auto dealerships provides.
With DIRECTV for Business, we at Mid-America Satellite can bring TV to your auto dealership, giving your customers programming to view as they wait and keeping them satisfied as long as they're in your establishment. Choose the channels you'd like to carry and we'll make a package for you that fits your business. Take advantage of DIRECTV for auto dealerships by contacting Mid-America Satellite today.
Do you need help with installing a flat-screen TV in your waiting room? We can help. We sell and install flat-screen TVs. We make it simple. We have several TV bundles that include the TV, TV mount and all the wiring needed to get up and running. Ask your sales representative for more details; we are not just a satellite television provider: We are a provider of full business entertainment systems.
Do you have more than one television at your business? We got you covered. When you commit to our new customer offer for twelve months you get two HD satellite receivers for FREE. So put one in your auto dealership's service waiting room and the other in your employee break room. DIRECTV is the best option for providing quality TV service at the right price. Call now and let us give your more information.
Learn more about DIRECTV for Auto Dealderships in Jefferson City with one of our experts by requesting a free site survey. Fill out our contact form today.
Speak With A Business Specialist Now By Calling

1-800-398-6176