DIRECTV for Dorm Rooms in Hannibal, Missouri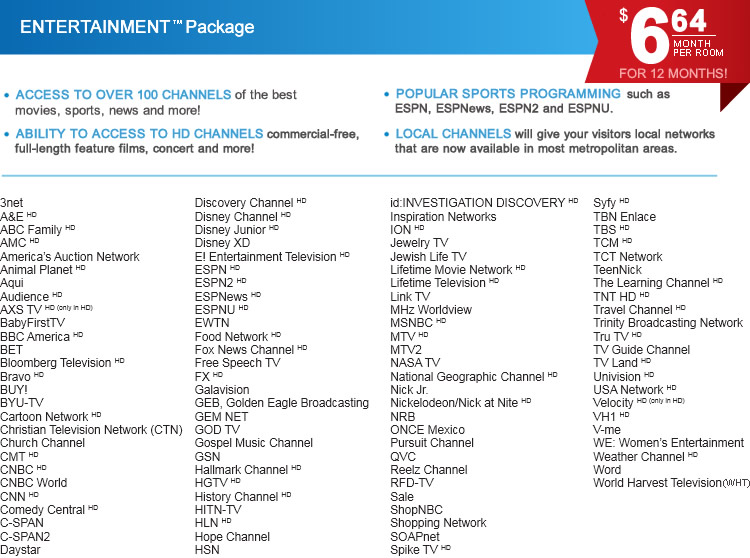 Call Us For A Quote
1-800-398-6176
Or fill out the form below

New Customer Downloads

Speak With A Business Specialist Now By Calling

1-800-398-6176
More about DIRECTV for Dorm Rooms in Hannibal
Give your students the TV entertainment they want with DIRECTV for dorm rooms in Hannibal, Missouri. You can make your dorms more attractive to prospective students with a TV package that features the best entertainment, sports, news and more. DIRECTV for dorm rooms is the ultimate on-campus television experience.
Mid-America Satellite has a number of solutions for multi-dwelling units. DIRECTV for Business from Mid-America Satellite can bring satellite TV to your dormitories, helping you set up a channel lineup to keep your residents entertained. Play to your audience by customizing your channel lineup and bringing sports and entertainment programming to your dorms. To get started with DIRECTV for dorms, contact Mid-America Satellite today.
With DIRECTV for dorm rooms in Hannibal, you'll get:
Access to more than 100 channels students like to enjoy at home
The ability to add premium channels
Fast and easy installation, including instruction on how to operate your system
To get started with DIRECTV for your dormitory in Hannibal, Missouri, call 1-800-398-6176 or fill out our simple contact form to have us call you.
More Reasons To Have DIRECTV for Dorm Rooms
Satellite TV for dormitories is changing the way colleges deliver television to students in dorm rooms, cafeterias, waiting areas and even classrooms. With DIRECTV for dormitories in Hannibal, there is an efficient and affordable alternative to expanded basic cable systems, with colleges saving between 20-40% on the cost of television packages.
With DIRECTV for dormitories in Hannibal Metropolitan Area, the satellite television package is set up in one central location, with satellite receivers for each channel. Colleges may set up a customized channel lineup that fits the school's particular needs, even fully integrating the university's own in-house channels in a replacement for the typical cable system. DIRECTV for dormitories in Missouri provides access to more than 100 channels; administrators can pick and choose which channels they'll need to best serve students, faculty, staff, and other university personnel.
With the DIRECTV dorm service, television service is delivered into each room. The coax cable in the room is plugged directly into the television with no need for a separate satellite receiver in each room, making for a simple, enjoyable user experience. With DIRECTV dorm services, you can get access to more than 100 channels for less than $3 per television outlet.
Customized Satellite Dorm Room Packages
Choose the channels for your college satellite package and even place them in the order you prefer. We have sample channel orders available in order to assist you in putting together your customized satellite television package. University news can be conveyed on an in-house channel; residents tune to the fully integrated channel 3 and can learn about what's going on on campus, from lectures to the schedules of your school's teams.
Learn more about DIRECTV for dorm rooms in Hannibal with one of our experts by requesting a free site survey by filling out our contact form.
Speak With A Business Specialist Now By Calling

1-800-398-6176