DIRECTV's SonicTap Music Service in Belleville, Illinois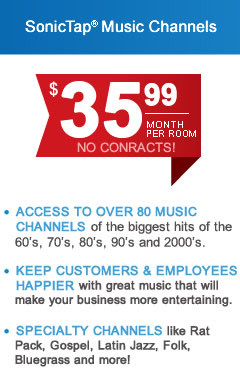 DIRECTV's SonicTap music service is your source for music for your business. SonicTap from DIRECTV in Belleville, Illinois brings you crystal clear sound with no interruptions, and enough programming variety for any business.
With DIRECTV for dorm rooms in Belleville, you'll get:
Rock, pop, and hip-hop music
Classical music, jazz and oldies
And much more
Keep your office, retail business, or other enterprise humming with SonicTap Music powered by DIRECTV. Mid-America Satellite can install your system to provide SonicTap's satellite music service to your commercial location, giving you DIRECTV's selection of music from all decades and all genres, from top ten hits to popular classics. Get started with SonicTap Music for your business by calling Mid-America Satellite today.
To get started with SonicTap in Belleville, call 1-800-398-6176 or fill out our contact form to have us contact you. This is the business music service for you.
Call Us For A Quote
1-800-398-6176
Or fill out the form below
SonicTap Music Channels
Alternative: Coffeehouse Rock
Alternative: Flashback/New Wave
Bluegrass: Bluegrass
Classic Rock Workout
Classic Rock: Classic Hits Blend
Classical: Light Classical
Classical: Symphonic
Country: Hit Country
Country: Honky Tonk Tavern
Country: Modern Country
Country: Red, Rock and Blues
Country: Traditional Country
Dance: Dance
Dance: Retro Disco
Dance: SubTerranean
Familiar Favorites
Folk: Folk Rock
Great Standards
Groove Lounge
Health & Fitness: New Age
Health & Fitness: Zen
Holiday & Happenings
International: Reggae
Instrumental: Beautiful Instrumentals
Irish
Italian Bistro Blend
Italian Contemporary
Jazz
Jazz: Big Band/Swing
Jazz: Classic Jazz Vocal Band
Jazz: Smooth Jazz
Latin: Bailamos!
Metro Blend
Modern Workout
Oldies: 60's Revolution
Oldies: 70's Hits
Oldies: 80's Hits
Oldies: Malt Shop Oldies
Piano
Pop/Adult Contemporary: 90's Hits
Pop/Adult Contemporary: Adult Contemporary
Pop/Adult Contemporary: Hottest Hits
Pop/Adult Contemporary: Love Songs
PUMP!
Rat Pack
Pop/Adult Contemporary: Y2K Hits
Pop/Adult: Today's Hits
Religious: Gospel Glory
Religious: Hallelujah
Religious: The Spirit
Rock: Adult Alternative
Rock: Alternative
Rock: Classic Rock
Rock: College Rock
Rock: Full Metal Jacket
Rock: Hair Guitar
Rock: Ink'd
Rock: Reality Bites
Rock: Soft Hits
Rock: Spike †
SonicTap: Carnaval Brasileiro
SonicTap: Fiesta Tropical
SonicTap: Hurbano
SonicTap: Latin Hits
SonicTap: Latin Jazz
SonicTap: Mariachi
SonicTap: Music of the Americas
SonicTap: Regional Mexican
SonicTap: Rock en Espanol
SonicTap: Salsa
Specialty: 8-Tracks
Specialty: Be-Tween
Specialty: Blues
Specialty: The Playground
Standards: Showtunes
Standards: Silver Screen
Standards: Singers-Songwriters
Tranquility
Urban: Classic R&B
Urban: Hot Jamz (Hip Hop)
Urban: Hype †
Urban: Old School Funk
Urban: Silky Soul
Urban: The Boombox †
† Contains explicit lyrics
More about SonicTap Music for Business in Belleville Metropolitan Area
There are many uses for music in commercial spaces. Most retail outlets from grocery stores to the hippest boutiques pipe in the sounds that appeal to their particular customer bases. Smooth, soothing sounds help to ease the minds of patients in doctors' and dentists' offices. Bars and restaurants can be loud and raucous or soft and sedate.
SonicTap for business in Belleville can provide the sounds that keep your business running smoothly. Whether you're running a sleek salon catering to the most cutting-edge clientele or simply seeking to provide the sounds that keep an office pleasant and productive, DIRECTV SonicTap is an affordable alternative to XM or Sirius satellite radio in Belleville. Minimal equipment is needed to set up SonicTap for your office, retail shop, or any other business.
SonicTap Commercial Satellite Radio
Similar to XM and Sirius satellite radio for businesses, SonicTap Music is a satellite-delivered radio station providing businesses with a broad selection of music to keep the workers moving and the customers moving through the store. With a range of stations from classic jazz to the latest rock and hip-hop and everything in between, SonicTap provides an alternative to Sirius and XM satellite radio in Belleville.
SonicTap is interruption-free and commercial-free and designed specifically to connect with your customers while enhancing your particular business atmosphere. Best of all, it is content-appropriate, with all of the music aired appropriate for business environments.
Treat your customers to commercial free satellite music. As a commercial DIRECTV customer you can add SonicTap Music to your account for only $34.99 per month. There is no better way to create the right business environment then the right music.
Need a distributed audio system for your business? Mid America Satellite can help you design a cost effective audio system for your business using quality products from manufactures like Yamaha, Pioneer, Klipsch and Electrovoice.
For more information on SonicTap satellite radio installation, please contact us by calling our representatives at 1-800-398-6176 or by filling out our contact form.
Speak With A Business Specialist Now By Calling

1-800-398-6176